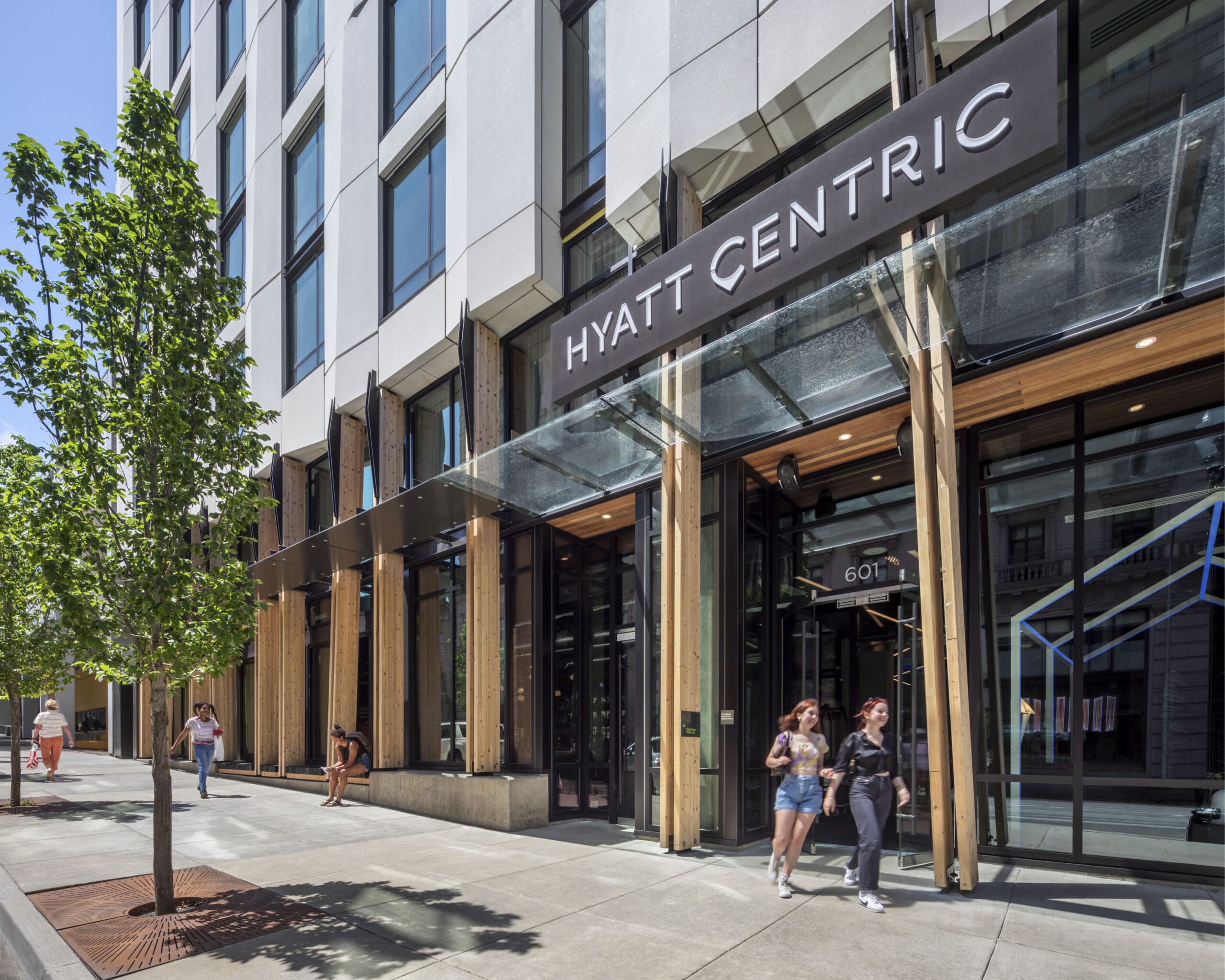 The 15-story 220-key upscale lifestyle Hyatt Centric is located in the heart of Portland's hip West End District, just steps from the Pearl District. The hotel includes a 24-hour fitness center, meeting spaces and a lobby destination restaurant/bar operated by a local Portland chef. The public entryway serves as a launch pad for the hotel guests and the community, creating a lively hub that is reflective of Portland with multi-media art displays.
The true success in the delivery of this project is the team approach. Hyatt Corporation, as developer and owner, hired the design-build team of Mortensen Construction and the local design firm Sera Architects, which provided both the architectural and interior design services. The orchestrated effort of all the various players is just one chapter in this story.
The exterior design of the contemporary boutique hotel embraces many biophilic principles. The native wood timber structural columns references to majestic forests of the northwest. The folded GFRC panel façade reflects basalt rock faces of the mountains capes visible from the city. Visibility from the street corner is provided through the completely lower two levels' glazed facade.
Interior concepts blend a convergence of modern industrial and contemporary elements, complemented by locally influenced accents, creates a sense of place for guests, and gives a nod to the city's quirky character. The "Portland Penny" adorns each in-room closet, paying homage to the 1835 American copper penny that was used in an 1845-coin toss to name the new town of Portland. Each suite showcases hand-stitched life-size chicken footstools by The City Girl Farm, speaking to the farming and agriculture around the city. Throughout the hotel are art installations, commissioned from local artists, including custom bas-relief pieces in each guestroom.
owner/developer: Hyatt Hotels Corporation
design-builder: Mortensen
architect/
interior design: Sera Architects